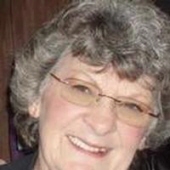 Obituary for Shirlee Gustafson
Shirlee Gustafson

Shirlee was born in Omak, Washington on August 31, 1935. Her parents, Leo & Helen Johnson, were lifelong citizens and important contributors to the close-knit community. Shirlee treasured her childhood in Omak and the people who surrounded her. The warm familial connections she formed endured throughout her life.

Shirlee always loved horses and riding. As a child and young woman Shirlee always had a horse and actively participated in riding activities. She served Omak, Washington as a Stampede Princess in 1954.

From youth and through high school in Omak, while attending the University of Washington, and whenever she had a chance as an adult, Shirlee enjoyed taking part in theater arts. One of the highlights of her life was participating as a member of Omakâ??s Medicine Show acting troupe in the mid-1970s. The group put on vaudeville-type shows and, more importantly, formed friendship bonds with each other that lasted in many cases for the rest of their lives.

Shirlee enjoyed traveling and experienced many parts of the world, both through years as a military wife and as a travel agent. Her travels took her to several countries of Europe, Asia, and South America and most states in the U.S.

Animals were always an important part of Shirleeâ??s life. She had pets most of her life, contributed generously to animal rescue organizations, and she and husband Phil volunteered several years for Committed Alliance to Strays (C.A.T.S.) in Medford, Oregon and not only rescued but also raised two foals.

As part of her ongoing close connection to family and entertaining, she was an accomplished cook, baker, knitter and seamstress.

Shirlee was as well a knowledgeable gardener and spent many happy days 'digging in the dirt.'

Shirlee was a devoted wife, mother, and grandmother, and all of her grandchildren have fond memories of various activities she did just with them like making cookies or simply going on walks.

She had an outsized appreciation for laughter and enjoyed stories, music, movies, books, costumes and pranks that brought people together to laugh.

Shirlee passed away on January 6, 2015 after a courageous 3-year struggle with illness. She is survived by her husband, Phil Gustafson, son and daughter-in-law Kevin & Patricia Luehrs, daughter and son-in-law Daena and Del Skobalski, son and daughter-in-law Michael & Erin Luehrs, step-daughter Kim Gustafson, step-son Cory Gustafson and his daughter Alyssa, grandchildren Katherine Luehrs, Betsy Luehrs Milovich, Griffith Luehrs, Kevin Skobalski, Carly Skobalski, Viveka Luehrs, and Imogene Luehrs, and great-grandson Justin Milovich. Shirlee's loved ones will treasure lingering with her in the warm, sun-lit room of our memories. We are grateful to Shirlee for leaving a rich legacy of love, laughter, and close family ties that strengthen us.