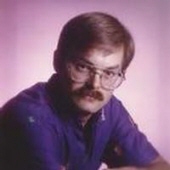 Obituary for Scott Alan Shryock
Born in Anchorage, AK to Robert Donn and Dorothy Mead Shryock. He left us to join his grandparents; father, Donn Shryock; and stepfather, Ernie Dalton. Survived by his mother, Dorothy Dalton; stepmother, Jennifer Shryock; siblings, Terrance, Candice, Debbie and Robert; best friend and wife of 31 years, Tamara McKern Shryock; pride and joy of his life, his sons, Phillip K. (20) and Seth A. (17); in-laws, Randall and Barbara McKern; numerous in-laws, aunts, uncles, nieces, nephews and cousins.

Scott was a lifelong learner with careers in retail, culinary and driving truck. Even though he considered himself a dinosaur, he mastered the internet for researching his many hobbies. New recipes fueled his passion for cooking and baking, gardening, canning, remodeling, reloading, hunting and all things automotive and diesel.

His greatest joy in life was the time spent teaching his sons. He showed them that life was better lived with humor and caring. Running a close second was the companionship of his pets. He called Hope his therapy dog; she made him laugh and was always at his side.

He met his wife at a square dance 36 years ago and continued to enjoy this great activity throughout their lives together. Working through the disabilities caused by a collision in 2005, he was finally able to join his family square dancing again in the last few years. He became a member of the Spurs and Skirts.

He loved his family and persevered through all the adversities that were thrown in his path. He will be sorely missed.

Celebration of Life will be held Sunday, April 6, 2014, at 2:00 PM, at North Spokane Dance Center, 7424 N. Freya, Spokane, WA 99217. Potluck to follow.