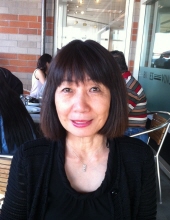 Obituary for Nobuko MatsumoriAnderson
Nobuko MatsumoriAnderson, 77, passed away February 13, 2021 in Spokane, WA after suffering a stroke in January. She was under the care of Hospice of Spokane and died peacefully with her children Erica and Derek by her side. Per her wishes, one of her urns will be placed in the cemetery in Kirkland, WA and the other will be taken to Japan by her sister to be placed alongside her parents in the family grave. Due to COVID, there will not be a memorial service at this time; one is being planned for this summer in the Kirkland/Bellevue area.

Nobuko was born in Shanghai, China on March 15, 1943 to Japanese parents Kiyoshi and Atsuko Matsumori. Her younger brother Shigeru was also born in Shanghai. Following the end of WWII, the family returned to Japan. Her younger sister Takeko was born in Matsumoto. Her family lived in Matsumoto, Sapporo, Kichijoji, and Kodaira, Japan. She was a proud graduate of Aoyama Gakuin University in Tokyo, Japan, earning a Bachelor of Arts in Law History. After graduation, she was hired by Northwest Orient Airlines as a stewardess, a position that she was proud to have been selected for. She met her future husband Northwest Orient Airlines pilot, Kurt Anderson whom she married in 1970.

Following their marriage, she left Northwest Orient, moved to America, and resided in what became her beloved Kirkland, WA. Her daughter Erica was born in 1973. Her son Derek was born in 1976. She maintained family connections in Japan with several trips to visit family and friends. She also prioritized volunteering at her children's schools. She enjoyed traveling around the world to visit family and friends as well as hosting those same acquaintances in her home.

Following her divorce, she went to work for Thai Airways at Sea-Tac Airport, at first part-time, then full-time in several capacities including Passenger Service Representative, Royal Orchid First-Class Lounge Hostess, and Load Control Specialist. She went on to work for United Airlines in their Seattle reservations and sales office until her retirement. She was proud to be part of reinstating the Seattle to Tokyo flight and established several key relationships with Japanese corporations.

She kept busy during her retirement years with her involvement with the Japan America Society and the Seattle Japanese Garden. She participated in many Japan America Society events and was a member of the Seattle Japanese Garden Advisory Council. She was instrumental in overseeing the planning and implementation of many of the Annual Garden Party fundraisers. She contributed many hours as a Unit 86 member, including being a garden guide.

Nobuko was a competitive table tennis player in high school and at Aoyama Gakuin University. In the States, she took up tennis and golf. She was a proud charter member of the Bellevue Club.

Nobuko is survived by: her brother, Shigeru Abe of Tokyo, Japan; her sister Takeko Kubodera of Hatano, Japan; her daughter Erica, son-in-law Steve; and her grandsons Andrew and Matthew; son Derek, daughter-in-law Zoe, and her grandson Tyler and granddaughter Dylan. She was preceded in death by her beloved cat of 21 years, Raven.

The family extends sincere gratitude to all her long-time friends who created many wonderful memories with her and supported her in times of need. Thank you to Ridgeview Place Assisted Living and Hospice of Spokane for their loving care at the end of her life. Erica and Derek appreciate your tremendous outpouring of love.
Read More
Events
Event Information
Services will be set for a future date to be determined.