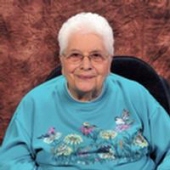 Obituary for Leora Maxine Patton
Leora Maxine Fletcher Patton
(Age 96)
March 20, 1919 - April 9, 2015
Leora Maxine Fletcher Patton was born at home on a farm near Dayton, WA to Orie and Lela Fletcher. She was the oldest of 6 children. Her parents were farmers, and being the oldest she helped on the farm by caring for her younger siblings. She remained very close to them through the years. Leora and her family grew up in Starbuck and Dayton, WA. After high school, Leora went to work for J.C. Penney. On May 12, 1940, Leora and Leonard Patton were married in Dayton, WA. They spent the next 68 years raising their four children, enjoying their 9 grandchildren, and 13 great-grandchildren
During WWII the young couple was stationed at various military bases while Leonard was a flight instructor. The family lived in Walla Walla, Pasco, Valley, and Farmington, WA before settling in Pendleton, OR where Leora later retired from J.C. Penney Co. While in Pendleton, Leora was very active in Calvary Baptist Church and in their missionary outreach group. In2003, they moved to Spokane, WA to a retirement community to be closer to two of their children and her siblings. Leora lost the love of her life, Leonard, on Dec. 25, 2008.
Leora was preceded in death by her brother, Eugene Fletcher. She is survived by her sisters, Alma Elaine Wolfe and Cletys Bowen, and her brothers Gerald Fletcher and Cecil Fletcher. She leaves behind her children and their families; Michael and Sally Patton of Keizer, OR, Terry & Betty Patton of Spokane, WA, Fred & Barbara Patton of Denver, CO, and daughter, Linda & Dudley Bain of Spokane, WA.
Leora was a beautiful Christian. She will be remembered for her unfailing love and devotion to her family. She will be greatly missed by all. Memorial contributions may be made in her name to Hospice of Spokane, 121 S. Arthur, PO Box 2215 Spokane, WA. The family plans to have a memorial service in July at the annual family reunion to honor Leora.