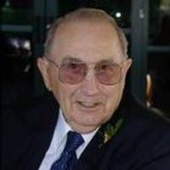 Obituary for Lauren Henry Brown
Lauren Henry Brown, the Third Generation of his family to farm, and a WWII Veteran, passed on April 3, 2014 at the age of 91. He was a lifelong resident of the Rockford and Freeman, WA area. Lauren was born on December 6, 1922 in Pullman, WA to Lauren and Amy Brown.

Having graduated from Rockford High School in 1941, Lauren continued working on the family farm and local farms until he enlisted in the Army in 1944. Lauren served our country, of which he was immensely proud of his service and especially the men he served with during his European deployment. He spoke very little of his time served as most men of his era. We honor him for his bravery.

Upon his return from Italy, he met and married the love of his life, Grace Evelyn Dahlgren in 1947. Lauren and Grace were married for 63 years. Lauren lost his loving wife and lifelong companion Grace in 2011.

Always working in the farming industry, Lauren and Grace eventually moved their family to Freeman, WA in 1964 to live his real passion, which was ranching. Lauren enjoyed caring for his livestock and the hard-working farming lifestyle. They had over 10,000 chickens at one point and a large herd of cattle and pigs. Lauren never bought meat from the grocery stores, â??Itâ??s NOT Meatâ? he would say.

In his retirement Lauren loved playing cards with his family and friends. The most precious moments we will miss are our Sunday drives when Dad would share memories of the good ole days and stories of his personal life experiences. Laurenâ??s generosity and kind heart were an inspiration to his family. He lived his life with integrity, honesty and bravery and will be missed by all.

Lauren is survived by his sons and their wives: Rick & Denise Brown, Otis Orchards, WA; Randy & Kathi Brown, Mount Vernon, WA; and Steve & Molly Brown, Boise, ID. Grandchildren: Robie, Cory, Kyle, Stephanie, and Monica, as well as eight great-grandchildren. One of seven siblings, Lauren is also survived by his brother, Wes Brown, and sister, Joyce Mertes. Lauren was preceded in death by his wife, Grace; parents, Lauren and Amy Brown; sisters, Maureen Bliesner and Bertha Slinkard; and brothers, Glenn Brown and Wayne Brown.

The family would like to extend our heartfelt gratitude to the staff and friends at Good Samaritan and Orchard Crest for the loving care they gave to Lauren - Thank you so very much.

A Celebration of Life and Service to his Country to honor Lauren will be held on Saturday, May 3, 2014, at 10:00 am, at the Spokane Valley Good Samaritan Chapel, 17121 E 8th Ave., Spokane Valley, WA.

Lauren Henry Brown will continue on, because we know that a life with so much joy and love never really ends, but is etched on the hearts of all who remember.