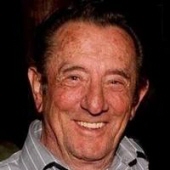 Obituary for Jerry Edward Piper
Jerry E. Piper
November 8th 1941 January 4th 2017
Jerry was born and lived in the Spokane area all of his life. He attended Hamilton Elementary and Rogers High School. In 1959 Jerry enlisted into the U.S. Army and while serving, he met his wife Dorothy James. They were married over 56 years and settled in the northern part of Spokane and started a family. He was a career truck driver for Acme Concrete and Central Premix where he retired. Jerry then spent his retirement with his family enjoying hunting, fishing, camping and watching football kicked back in his recliner. Jerry or Poppy which he was known by the family and close friends, is survived by his wife Dorothy, daughter Corenna, son James and sister Donna of Kingman Arizona, also by his four grandsons Steven, Michael, Tony and Cole and granddaughter Shelby Marie and twelve amazing great grandchildren. A celebration of life will be held on January 15th at 4:30pm at the Deer Park Eagles Club, 12 W. South Ave, Deer Park, WA 99006. Potluck style with some food provided. We would love to see you there. In lieu of flowers, please donate to the Deer Park Eagles Club.