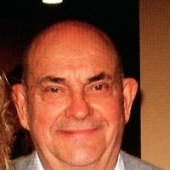 Obituary for Jerome Knopp
Jerome J. Knopp (Jerry) passed away December 22, 2017 at the Spokane Veterans Home.
Jerry married Dorothy Jean Sunwold in 1961 in Fairfield, Washington. They were married 49 years living mostly in Spokane, and also Mead, Washington.
They had three children, Barbara Jean Conklin (Scott Conklin), Lois Marie Driscoll (Steve Driscoll), and Lucy Walker (Ed Walker).
Their Grandchildren include, Christena Salsbury, Nichole Chatigny, Joseph Weiss, Rachel Conklin, and Travis Walker.
Great-grandchildren include, Chance Cudworth, Kadience Salsbury, Landon Chatigny, and Ashlyn Chatigny.
Jerry served in the Armed Services, Airforce 1954-1958.
All of Jerrys life, taxidermy had been a passion and his trade. He loved the outdoors, hunting and fishing, and just nature itself.
A celebration of life will be at a later date.