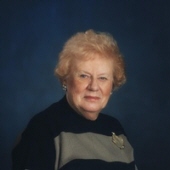 Obituary for Jeanne Elizabeth Batson
Jeanne Batson passed away on August 11, 2017, surrounded by tremendous love and family. Jeanne was born in Millwood, WA the youngest of four children of Horace and Mary Banta who came to Millwood from Wisconsin in 1911. Jeanne lived her life in Millwood, just four blocks from the home where she grew up as a child. Jeanne graduated from West Valley High School, as did her high school sweetheart Harry Batson. Both graduated from West Valley in 1939 and were married in 1941. They built their house on the river in 1952. Harry went to work for Northwest Airlines, Jeanne stayed home and raised their four children: Nikki, Susan, Jeff and Nathan. Jeanne is survived by not only her four children but also by six grandchildren, Heather, Jake, Loren, Sandy, Alex and Preston. Jeannes love and devotion were to her children, family, Millwood and of course her precious Chow dogs all of which came to the name Puppy.
Jeanne enjoyed her life in Millwood gardening, cooking elegant meals for friends and family, playing the piano as well as her artwork of oil painting and woodcarving. Jeanne and Harry took several trips to the Orient, as she loved the travel, architecture, art and the culture.
Upon Harrys premature death in 1987, Jeanne took on a second career. With all of her children grown and out of the house, Jeanne filled out the balance of Harrys term on the Millwood Town Council. Due to her great care for Millwood, when that term expired, Jeanne ran for Mayor of Millwood, on her no-growth, no-change platform. Jeanne handily won the election. As the Spokesman Review once quoted Jeanne Batson lives a June Clever life in a Norman Rockwell town, and she planned to keep it that way. She served four terms as Mayor from 1990 to 2005. While Mayor she installed a new sewer system, water system, repaved all of the roads, hired a full time Fire Chief, added numerous amendments to the Park and annexed the west boundary of Millwood, all at no cost to the residents. Governor Mike Lowery appointed Jeanne to the Washington State Board of Landscape Architects where she served from 1985 to 1999. She served on the Eastern Washington Association of Mayors, the Association of Washington Cities as well as the Spokane Transit Authority Board. Jeanne was inducted into the West Valley High School Hall of Fame in 2012. There was never any doubt about what Jeanne was thinking because Jeanne always told you what she was thinking, and people liked that about her.

In honor of Jeannes service and dedication to Millwood, an arboretum was built and named in her honor, The Mayor Jeanne Batson Arboretum, located on East Empire Avenue between the Millwood Park and the Paper Mill.

A Celebration of Jeanne Batsons Life will be held in Millwood Park on Saturday September 23 from 12:00 noon to 4:00 PM. Donations in Jeannes name can be made to: SCRAPS 6815 E Trent Ave, Spokane Valley, WA 99212 or SpokAnimal 710 N Napa St, Spokane, WA 99202

Everything is in order Mom, Puppy is in charge.