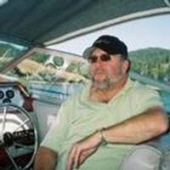 Obituary for Gary James Bundy
Gary stepped into Glory to meet his Savior, Jesus Messiah, on March 6, 2014. He passed away in peace at his home in Liberty Lake, WA with his devoted wife, Barbara Earp Bundy and daughter, Kimberly at his side. In addition to his wife, he is survived by his four daughters, Erica Anderson of Seattle, WA, Kimberly Miller of Spokane, WA, Rachel Miller of Post Falls, ID, Marianne Spear of Bothel, WA; son, Michael Bundy of Snohomish, WA; eleven grandchildren, one who is already in Heaven, David Jeremiah Spear. He is also survived by his mother, Mary Ann Bundy Bond of Walla Walla, WA; sisters, Laura (Mark) Minne of College Place, WA and Vickie (Thayne) Stone of Walla Walla, WA.

Gary was born to Mary Ann and Jim Bundy (deceased) in Walla Walla, WA on August 13, 1953. He attended Walla Walla High School and later studied computer technology and founded Journey Development, a software company in Mukilteo, WA. Gary spent the majority of his life in Washington state and enjoyed everything the Northwest has to offer. He has a great love of the water and fishing and he was able to fulfill his lifetime dream of obtaining his captains license in 2001.

After closing Journey Development in 1992, Gary had a vision that launched several nonprofit organizations over the years that were designed to assist ministries and their outreach. The vision he had lives on in the many lives he touched. He was a man of great faith in God and greatly loved. He had a very kind and generous spirit and never met a stranger. Every day he looked for a Divine Appointment from God. His dear friend, Dr. Gabriel Bainesai, always told Gary, ""Don't give up, Gary, don't quit!â? Gary walked in those words every day of his life.

A celebration of Garyâ??s Life will be held March 22, 2014, from 2:00 to 4:30 PM, at Spokane Dream Center, 2128 N. Pines Rd. Ste. 2, Spokane Valley, WA. In lieu of flowers we suggest a donation to: Rehema Ministries, www.rehemainstep.com, or Rice Bowl Ministries, www.ricebowlministries.com or Mission Network, www.theMissionNetwork.org in Gary's name.