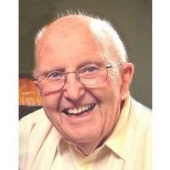 Obituary for Edward "Ted" Jensen Morse
Edward "Ted" Jensen Morse (Age 101)
Ted was born May 8, 1915 in Spokane to Laverne and Mary (Jensen) Morse. He passed away peacefully on January 25, 2017. Ted was preceded in death by his first wife Doris, daughter Wendy, and stepson Mark Hoffman. He is survived by his second wife Barbara; 3 children from his first marriage, Richard Morse, David Morse (Lea), and Donna Strawn; 6 grandchildren, James Morse (Crystal), Matthew Morse, Nicholas Morse, Mikayla Morse, Daniel Strawn (Allison), and Kevin Strawn; 2 great grandchildren, Carson and Calissa; and 2 stepchildren Patricia Konzak and Ken Hoffman. Ted graduated from Lewis & Clark High School and attended the University of Washington before enlisting in the Army Air Corp during World War II. He was a supply Captain for a squadron of B-26 bombers in England and was later reassigned to France after D-Day. Ted spent his entire working career at the family-owned business Jensen-Byrd Co. His first job was at age eight delivering invoices to local customers for the price of stamps. Ted was VP-General Manager from 1957 until 1980, when he retired. Ted and Barbara enjoyed going on cruises, favorites were Alaska (five times) and the Panama Canal (twice). They also enjoyed spending winters in Hawaii with good friends. Ted was a long time member of the Spokane Club, Manito Golf and Country Club, and Rotary International. Ted loved golf and bowling. He always enjoyed rooting for his sports teams, especially the Washington Huskies. A Memorial Service will be held at Rockwood South Hill, 2903 E. 25th Ave., on Saturday, February 18th at 2:00 p.m. In lieu of flowers the family suggests a memorial donation to Spokane Guilds School, Vanessa Behan Crisis Nursery, Rockwood Residents Foundation, or the charity of your choice.