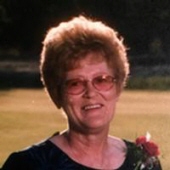 Obituary for Earlene Janet Wiseman
WISEMAN, Earlene J.
Earlene Janet Wiseman, 75, of Loon Lake Wa, passed away on October 5th, 2015.
A small family service will be held at 3pm on October 16th at Greenwood Memorial Terrace. Jacob Powers of The Heights Church will be officiating. Funeral arrangements are being handled by Community Cremation & Funeral.
Earlene was born at home near Bowbells, North Dakota on June 14th, 1940. Earlene was married to Roy Wiseman on August 4th, 1961; they were married 54 years.
Earlene worked in both North Dakota and Colorado before settling with Roy in Spokane WA in 1964. After starting a family in Spokane, Earlene and Roy moved to Chewelah WA in the fall of 1975 and then to Loon Lake WA in 1992 where she enjoyed time with family & friends playing Bingo and volunteering at Providence St. Joseph's Hospital in Chewelah, WA.
Earlene is survived by her husband Roy, two sons Curtis Wiseman and Mike Wiseman, their wives Amber Wiseman and Tricia Wiseman, three grandchildren; Cameron Wiseman, Devin Wiseman and Darin Wiseman, her brothers Lavern Chrest, Earl Chrest Jr. and Laurie Chrest and numerous nieces and nephews. Earlene is preceded in death by her parents, Earl and Florence Chrest and her sisters, Elaine Smith, Donna Chrest and Marlene Gibson.
In lieu of flowers memorial donations may be given to the Vanessa Behan Crisis Nursery, 1004 E. 8th Ave., Spokane, WA 99202 (www.vanessabehan.org).