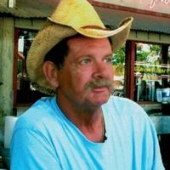 Obituary for Donald "Ted" Theodore Chase
CHASE, Donald T. Ted
(Age 67)
Surrounded by loved ones, beloved husband, father, and friend, Ted, passed away Tuesday, December 27 in Spokane. He was born in Malta, MT on December 31, 1948, and was raised by Harold and Gladys Gunderson. Ted graduated high school in Montana going on to join the Army. He served our country proudly from 1966 to 1972. He served 3 tours in Vietnam. Ted was an honorary servant dedicating his time for others. He eventually settled in Spokane. Ted married Kathy on July 11, 1986. He worked for Perfection Tires, Costco, and ended his work days at Paradies Lagadere. He made many friends along his journey. Ted enjoyed fishing, playing pool, and sharing a cold beer amongst friends. He enjoyed teasing, if only because he enjoyed to be teased back. Ted will be remembered for his wit, his willingness to help others, and for making people smile. He was loved by many and will be missed greatly. Ted is survived by his wife Kathy of 30 years, his brother Laynn Chase, two sisters, Karen Kohler and Peggy Tarulis, son Phillip Chase, daughter Carol White, stepdaughters Deanna Walther, Jennifer Kittilstved, stepson Trevor, six grandchildren Alisha, Eric, Maddy, Johnny, Erica, and Katelynn, and one great-granddaughter Cashlynn Kate. He was preceded in death by daughter Dawn and by his parents. A Memorial Service for Ted will be held at 1:30pm on Friday, May 5, 2017 at the Washington State Veterans Cemetery, 21702 W. Espanola Road Medical Lake, Washington 99022.