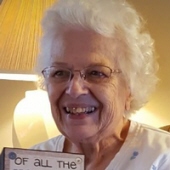 Obituary for Danna Bolich
Danna Bolich
Danna passed away on December 25, 2017 in Spokane, WA at the Spokane Hospice House. She was born March 24, 1933 in Walla Walla, WA to Daniel E. and Margaret (Hofmann) Leuthy. They moved to Spokane when she was 9 months old.
She graduated from North Central High School in 1951. While there, she thought trigonometry and physics were super easy! She joined the W.A.F, intending to pursue a career in the medical field. Instead, she was trained as a mechanical engineer and worked on airplanes. She completed 4 years of service.
In 1956 she married Floyd Bolich. He fell in love with Danna the moment he saw her smile. They lived in Spokane where Danna worked for White Pine as a secretary while Floyd attended Gonzaga University. They then moved to Walla Walla at which time she became a full-time home maker. They lived in Walla Walla for 7 years until moving to Clarkston where she lived the rest of her life.
She was a devoted member of First Baptist Church in Clarkston since 1970. She played the piano, taught Sunday School, participated in the church work day every Tuesday, and was the church clerk for many years.
From an early age Danna began to can and continued canning produce from her and Floyds garden. She was an excellent baker. She even created a special cookie recipe just for Floyd. Her children cannot remember a time without freshly baked cookies awaiting them from returning home from school. Even her neighbors came over to sample all of her baked goodies. She passed on this joy of baking to her children, grand-children and great grand-children.
She was an expert seamstress and quilter. She sewed everything from Floyds hunting jackets, her daughters clothes while they were growing up, her daughters wedding dresses and bridesmaid dresses, to quilts for every child and grandchild as well as many friends and neighbors. She was a longtime member of Seaport Quilters Guild and Tuesday Stitchers. For over 40 years, with her good friend, they sewed quilts that went to nursing homes, missionaries, military troops, fire fighters, police officers, and various organizations.
Of all the many talents and joys that Danna had, her greatest was being a mom and grandma. Her love was unrelenting and unconditional. She will be remembered for her selflessness and the love she exhibited to her family and friends.
Her smile continued to touch not just Floyd and her family, but everyone who met her even during her final days, the Spokane Hospice House nurses commented on the glow that exuded from her when she smiled.
She is survived by: her husband Floyd; their three daughters: Debbie Cridlebaugh-Bolich, Deanna Ristau (Rob), and Danette Garcia, all of Spokane; 10 grandchildren; 9 great grandchildren; and one sister, Darlene Negrette in San Jose, CA.
She was preceded in death by her parents; her brother, Robert Leuthy; a great grand daughter, Tiffany Garcia; and son-in-law Gilbert Garcia.
We would like to thank the staff and nurses at Hospice House of Spokane for their professional and compassionate care. A Memorial Service will be held at a later date.