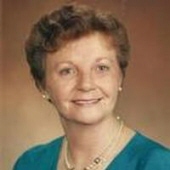 Obituary for Adeline Beth Nerger
Passed away on the 18th of June, 2014 in Deer Park, Washington. She was the youngest of Hans Milton Hansen and Zilla Sheltonâ??s seven children and was born on March 4, 1932 in Valier, Montana. She graduated from Darby High School after which she moved to Seattle to attend Beauty School where she became a licensed Beautician. Seeking adventure with a friend, she joined the U.S. Navy during the Korean War; it was here that she met her future husband Robert Nerger, â??Bob"". Beth was a Navy and Air Force wife for about 23 years until she divorced. Her divorce was one of the cases that motivated the US Congress to pass a law that made Military Retirement a community asset thus overturning a US Supreme Court ruling. Beth worked hard all of her life raising four sons and made a living later in life working as a cook for the German-American Society and as a Bakery clerk. At one point, looking for still further adventure, she moved to Pullman where she became the House Mom for the Sigma Kappa Sorority at Washington State University. Her time in Pullman left her a life-long Cougar.

She is survived by four sons, Lawrence Nerger of Denver, CO, Paul Nerger of San Francisco, CA, Curtis Nerger of Greenacres, WA and Wayne Nerger of Spokane Valley; three daughters-in-law, eight grandchildren and five great-grandchildren.

The family will have a private memorial service for the extended family and friends which will be announced at a later date. A headstone will be placed at the Evergreen Cemetery in Freeman, WA, in the Hansen Family plot.

The family wishes to thank the Staff of Sun Gardens Adult Family Home and Gentiva Hospice of Liberty Lake, for their kind and loving care given to our Mother.

The family would ask that contributions be made to help find a cure for either Alzheimer or ALS in lieu of flowers.