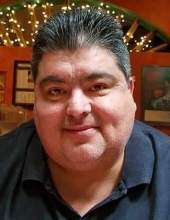 Obituary for Steven Phillip Struck
Steve Phillip Struck went home peacefully to be with his Lord and Savior on July 18th, 2020 in Spokane, Washington. He was surrounded by his 4 children and others who loved him. Steve was born on October 9th, 1970 in Santa Fe, New Mexico to Phillip and Rose Struck. He is preceded in death by his grandparents Willie and Julia Struck, Jesus and Hermina Torres, and nephew Brandon Struck. He is survived by his Mother, Rose Struck, Elizabeth Howieson (Donald) and, his children Brittany O'dell, Marissa, Isaiah, Izabellah, and Gracie Struck, brothers, Kevin and Eric, nephews, Daniel, Allen and Lee, niece Sarah and many other nieces, nephews, aunts, uncles, and cousins.

Steve was the eldest of 3 boys. Steve, Kevin, and Eric. He was a lifelong resident of Santa Fe and the famous face of the Santa Fe Baking Company, also known as, "The Gentle Giant", where he worked with his brothers Keven and Eric.

Steve graduated in 1988 from Santa Fe High School. At age 18, Steve met Elizabeth and they were married on June 6, 1992 and have 4 children, Marissa, Isaiah, Izabellah and Gracie. In 2009 Steve fell ill with an autoimmune disease. He had many setbacks with his health but continued to fight and press on. In 2019 Steve decided to move to Spokane, Washington to be closer to his children and their mother Elizabeth and her new family. Steve and his children were remarkably close. Together, they enjoyed Mario Kart, Rockband, and many reality TV shows. There were inside jokes that only the 5 of them can relate too! They had a unique closeness that made them their own pack. Steve possessed a certain kind of charisma and was quickly liked by many. He was a hardworking man. In his younger years, he enjoyed gathering with friends, playing cards, playing volleyball and listening to rock music. His favorite band was Rush, he never missed their concert when they came to NM. He enjoyed singing karaoke with kids and nieces and nephews Sarah, Allen and Daniel.

Some of Steve's favorite past times included watching the Dallas Cowboys football games, as well as Survivor Series, golfing (with his Ping golf clubs), and spending time with his children. He had a selfless heart and loved serving people with his kindness and contagious smile. There are many words that I could share about Steve, but the most important one is that Steve accepted Jesus as his savior. On his death bed, Elizabeth asked Steve if he was right with the Lord. He squeezed Gracie's hand to confirm. T-Bone, we will forever miss you. Just know you are loved. As painful as it is to lose you, we trust that you are in Heaven with Jesus. No one else can take care of you the way He will. We love you Steve aka, T-Bone! YOU will be sorely missed STRUCK!

His Cremation will take place in Spokane, Washington. Services in Santa Fe will be set for a later date.
Read More