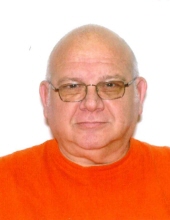 Obituary for William "Bill" T. Bozarth
The family of William (Bill) T. Bozarth is devastated to announce his passing on October 13, 2020. He filled his 74 years with love, laughter, and great bear hugs. He will always be remembered for his kindness and great laugh. His story began on October 12, 1946 in Cheyenne, WY. From that point on it was full speed ahead. He stayed in Cheyenne until his senior year in high school. He graduated in Greeley, CO in 1964. On Christmas Eve 1965 he went on a blind date and met the girl that stole his heart. He fell head over heels in love with Patricia Ann Crawford. In 1966 he made the brave decision to join the US Navy. This decision would take him around the world and serve as a source of pride for all of his family. On July 20, 1969, he married Patti and began their loving journey together. He served 20 years and honorably retired as a Master Chief 1986. He then started working at PSNS in shop #2340 where he stayed for another 25 years. During his years in the Navy and PSNS he made friends that quickly became members of the family. He cherished those friends dearly. He is survived by his siblings, (Thurman) Lee Bozarth, Mable McGillicuddy, John Gibb, Ray Pafford, Gary Crawford. His loving wife of 51 wonderful years, Patti, his loving and devoted daughters, Lori Bennett and Crystal Cobabe. He left 6 grandchildren, Courtnee, Brittnee, Destinee, Tristen, Alexis, and Elijah. He was preceded in death by his father Marvin Lee Bozarth, his mom Edna, and siblings Harold Pafford, Jack Pafford, James "Jim" Pafford, William "Bill" Pafford, Laura Belle Dorn, Edna Boyles, Mary "Cussie" Crawford, Pearl Caldwell, and infant brother George Gibb. As big as his family is, Bill had a heart big enough for many, many more. Please know that his story doesn't end here. His legacy lives on in the hearts of so many. There will be a celebration of life in spring/summer 2021. The family asks that if you wish to honor his memory please donate blood, volunteer at a food drive, or just help a friend move. Carry his memory with love. His family near and far certainly will.
Read More
Events
Event Information
There are no services at this time.