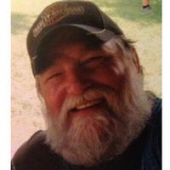 Obituary for Victor Franklin Paullas, III
Vic Paullas, 60, of Spokane, Washington passed away peacefully in his home on September 1, 2015 with his loving wife Sandy by his side. Vic was born on July 9, 1955 in Spokane, Washington and was raised in The Coeur d' Alene, Idaho area. He graduated from Coeur d'Alene High School in 1973 and traveled most of his adult life as a Union electrician with IBEW Local 73. In his spare time, he enjoyed spending time with his family, the outdoors, and riding his Harley hard and fast. He joined the Patriot Guard Riders in 2012 in support of our fallen Veterans.
Vic is preceded in death by his father, Victor F. Paullas Jr and his mother, Bette Lou Peasley.
He is survived by his wife Sandra Allen-Paullas, brother Terry Paullas, his two sons Shawn and Jason Paullas and their wives, Sheena and Tia, his two stepchildren Nicole Lynn Allen and James Pearson, his 9 Grandchildren: Caleb, Ashton, Natalee, Skyler, Jacob, Tyler, Zachary, Shaylee, Wesley and Great Grandson Eli.
Vic also has many cousins, aunts, uncles, and the Amato family in Texas as in-laws who loved and adored him. He created lifetime bonds with his IBEW family and touched the lives of everyone he met.
His graveside service will be held on Saturday, September 12, at 1:00 p.m. at Greenwood Memorial Terrace 211 West Government Way in Spokane, Washington.
He was a true blessing to all who knew and loved him, and will be deeply missed. He lived to ride and rode to live, ride free Vic!


Previous Events
Graveside Service
Greenwood Memorial Terrace
211 N Government Way Spokane, WA 99224
Spokane, WA 99224