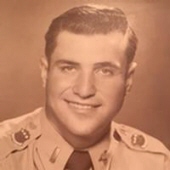 Obituary for Sol MD Barnett
SPOKANE, WA – Sol Barnett MD, 83, finished his run on January 2, 2016 at Deaconess Hospital in Spokane, WA after a brief illness. By any stretch of the imagination, Sol and his life were remarkable. Those who knew him weren't likely to forget him. The son of Harry and Rachel Barnett, both immigrants from Lithuania, Sol was born on June 7, 1932 in the Bronx.

As a teenager he worked in his father's grocery store, ran numbers as a bookie for a short time, attended DeWitt Clinton High School, and famously received his driver's license only after Harry paid off the testing agent with a Thanksgiving Turkey.

He headed West because Clarence Lovejoy himself told Sol he needed to attend college in the "West" since there was a quota for Jews on the East coast. He attended Ohio State University where he majored in Chemistry and Pharmacy. There he played the violin in the student symphony and de-pledged from Tau Epsilon Phi after an absurd hazing episode. After graduating in 1954 he served in the US Army in a MASH unit at Fort Sam Houston in Texas. Initially declined entry into medical school, he visited the office of the University of Cincinnati College of Medicine after finishing his tour with the army and, most fortuitously, on that day there was an opening...and he "was in." He helped pay his way through medical school working as a pharmacist.

Although he never played it up, Sol and his first wife, Carol Mizrahi, were "responsible" for the creation of the television series "Mad Men." While in medical school Sol asked Carol if she would fix up his classmate Les Weiner. Carol said yes - and picked her roommate, Judy. Les and Judy are now married fifty years and have four children. One is Mathew Weiner, the creator and producer of "Mad Men."

After medical school, Sol did a one-year of internship at the University of Cincinnati and then completed his residency in internal medicine at the University of Iowa Hospitals. Sol then did a fellowship in gastroenterology at Henry Ford Hospital in Detroit.

Sol ventured to California to interview at Kaiser Permanente. Although scheduled to meet on a Monday, Sol arrived on a Saturday and called to see if a Saturday meeting was possible. He was told not because the interviewer was going bird-watching Saturday. Sol decided - as a reflection of his work ethic - if bird-watching took precedence over medicine then Kaiser wasn't the place for him. The next stop was Champaign, Illinois, where in 1966 he joined Christie Clinic. At Christie, Sol practiced in both internal medicine and gastroenterology and would become their "resident historian", president and, most importantly, the go-to person for difficult diagnostics. He was repeatedly voted "Best Doctor" in News-Gazette reader polls and when he retired from Christie, it took a number of doctors to absorb his panel of patients. Years after he retired, his name continued to be published in the phone directory. It was good for business, it was assumed. Sol truly loved medicine and his patients with a passion.

Sol was a key person in starting the Champaign County Blood Bank, Frances Nelson Health Center and the local branch of the "Ileitis and Colitis Foundation for Patients." He was also a long-time clinical associate professor at the University of Illinois College of Medicine and a regular featured guest on WILL's "Digestive Health."

After retiring from Christie, Sol moved to Spokane, Washington where he continued to practice medicine and focused on gastroenterology at Rockwood Clinic. Six years later he retired again and with his wife Pattricia enjoyed many years of travel, the arts, music (he loved Sinatra), his computer, "Mad Money," and their beloved cat, June. He was an Illini, Zags and Seahawks fan. He maintained his medical license through 2015 and took great pleasure when former patients from Champaign would call him for guidance.

Sol was famous for smoking his blue pipe (quitting overnight), and mowing the grass in his tie (the Bronx kid with his beloved John Deere was once disturbed to see all of the "flowers" cut down at his first home in Champaign only to learn they were dandelions). He loved bagels and once lived on an entire restaurant supply can of butterscotch pudding for a week. He was very modest, never impressed with labels or fancy names. He never considered himself smart, but those who knew him would vehemently argue the point.

Although medicine was his life - he called it his "mistress" - he had a sweet side less known to most. One Thanksgiving Day, he saw a woman selling flowers and stopped to buy a bouquet. When he asked her why she wasn't home with her family (of all people to ask!) she said answered that she needed to sell the flowers. Sol purchased all the flowers but on one condition - that she would go home to her family. Much to his dismay he saw her outside selling flowers again some hours later. Kindred spirits, perhaps.

He is survived by his wife Pattricia Barnett of Spokane, WA, son Michael (Victoria Shampaine) and granddaughters Maya and Hannah of Chevy Chase, VA, sons Todd and Daniel both of Madison, WI, and ex-wives Carol Mizrahi of Champaign and Carol Hull Barnett of Cheyenne, WY. He was preceded in death by his parents and brothers Rudyard and Julian.

Letters of condolence may be sent care of his wife Pattricia Barnett at 107 East Meadowlane Road, Spokane, WA 99224. Donations may be made the US Holocaust Memorial Museum in Washington D.C. or to the charity of your choice.