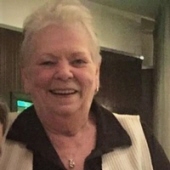 Obituary for Sharon "Sherrie" Rae Luttrell
Sharon Sherrie Rae Luttrell (Age 76) loving wife of Butch for 46 years has passed away, surrounded by her family & friends on Friday Sept 29th 2017 after her battle with Cancer.

She is survived by her Husband Butch Luttrell, 6 Children: Randy (w)Jo, Kathy (h)Joe, Dee Ann, Carol (f)Chuck, Billy (w)Leanne, Donnie (w)Danielle. 13 Grandchildren: Jenna, Justin (predeceased), Jessica, Jamie, John, Jacob, Christyna, Jade, Jack, Krystina, Kaylei, Danyka, Daykota. And 8 Great Grandchildren: Xyia, Kyia, Mikylee, Mikenzee, Collin, John, Bryton, Baylee.

There are also many others who called her Mom Nana & Friend as she had impacted so many lives & was loved by all.

She will be missed & remembered by all.