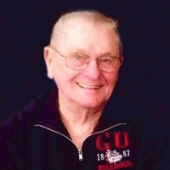 Obituary for Robert Vernon Mager
Robert (Age 87) passed away peacefully with his family at his side at the Hospice House in Spokane on September 3, 2017. He was born on January 23, 1930 in Chewelah, WA to Mike and Frieda Mager. At the age of 18, Bob enlisted in the US Navy and was a member of CAG1. Four years later, and two world cruises, he was honorably discharged. Bob developed a passion for airplanes, motorcycles, fast cars and firearms. In May 1954 Bob joined the Spokane Police Department where he would become lead self-defense instructor, pursuit driving instructor and one of the first members of the original SWAT Team, retiring as a Detective in 1975. He would then work as a CSO for US Marshall Service for 11 years. Bob also taught numerous womens self-defense classes. He qualified as a pistol expert most of his career. Bob spent over 55 years in the sport of Judo reaching rank of 4th degree black belt. In Bobs spare time, he enjoyed doing leather work making gun holsters and belts, hunting, camping, shooting handguns and of course, carving walking sticks. He was also an accomplished pilot. Last January Bob celebrated 62 years of marriage to his best friend and the love of his life, Janice. He is preceded in death by his parents, and beloved wife Janice. He is survived by their three children; Debbie (Ken) Zwarg, Karen (Al) Curtis, and Mike (Rhonda) Mager, along with six grandchildren; Jennifer, Lynn, Sara, Amy, Kristy, and Katie, as well as four great-grandchildren.
He was deeply loved by his family and friends; our hearts are broken. He leaves a huge void and will be greatly missed. Until we see you again, Bob.
Services will be Friday, September 22nd at 1:30pm at the Sunset Chapel, inside Fairmount Memorial Park, 5200 W. Wellesley. The family request in lieu of flowers to please make donations to Hospice of Spokane.