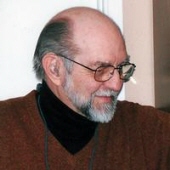 Obituary for Robert Thor Morrow
MORROW, Robert T. (Age 85)

Robert, of Spokane, passed away on Tuesday, January 3, 2017 at Providence Holy Family Hospital. Born on July 17, 1931 in Grand Forks, North Dakota to William and Ida (Thompson) Morrow, Bob was raised in Thompson, near Grand Forks and graduated from Grand Forks Central High School. He went on to attend Mayville State Teachers College where as a gifted baritone, he sang in the college choir. It was at Mayville that he met his future wife, Ara Carlson. In 1954, he earned a Bachelor of Science in Education degree, and married Ara (Grand Forks, August 15). Relocating to California in 1955, Bob taught math at high schools while attending graduate school. He completed his Master of Arts degree from Fresno State College in 1961, then a year later moved to accept admission to Washington State Universitys doctoral program in Education and a Graduate Teaching Assistantship. Hired by Eastern Washington University (Eastern Washington State College) in 1964, he completed his Doctorate in Education in 1965. It was in Cheney that the family settled. Dr. Morrow became a full professor and long-term Director of Teacher Certification at EWU. He additionally served as President of the Washington Council of Deans and Directors of Education, from 1981-1983. Awarded Professor of Education Emeritus status in 1986, Robert Morrow retired officially, then supervised student teachers in the field part-time for five more years. Following his years in education, Bob Morrow served for more than 13 years in the Spokane area as a CASA Volunteer a Court Appointed Special Advocate for children. He was a lifetime music and sports enthusiast, loved dogs, and enjoyed fishing the Snake River, playing chess and racquetball. His dry sense of humor and problem-solving nature were hallmarks of his personality; he could build or fix anything. He was a good guy a devoted and loving husband, father, grandfather, son, brother, uncle, cousin and friend. Robert Morrow was preceded in death by his parents, sister Shirley Fleishman, son Steven Morrow, and son-in-law, John Anderson. He is survived by his wife of 62 years, Ara Morrow of Spokane; sister, Joyce Eckerich; daughters, Lori Morrow, Nancy Morrow, and Lisa (Wes) Addington; grandchildren, Brittney (Travis) Wollison, Matthew (Lindsay) McDonald, Tyler (Emily) Hoerner; five great grandchildren; and former son-in-law, Curt McDonald. A private memorial will be held at a later date in Spokane. The family wishes to thank the staffs at Providence Sacred Heart and Holy Family Hospitals for their compassionate care.