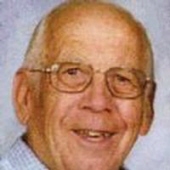 Obituary for Raymond A. Christianson
Passed away early Saturday morning, October 26, 2013, due to complications with Vascular Dementia. There is no doubt in anyoneâ??s mind where he is now. His new home is in the home of his Friend and Savior, Jesus Christ.

Ray was born April 4, 1935, in Harvey, North Dakota, to his parents Chris and Agnes Christianson. He and his family moved to the Pacific Northwest at the start of WWII. The family moved to various towns throughout western Washington and Oregon. The family eventually moved to eastern Washington and northern Idaho and settled down in Otis Orchards, WA, in 1950. While at Otis Orchards High School, Ray often talked about how he would Caddy for Bing Crosby out at the Hayden Lake Golf Course. While a senior in high school, he joined the United States Air Force Reserves. Ray graduated from Otis Orchards High School in 1953. He worked various jobs until eventually settling down at Kaiser Aluminum, Trentwood, where he worked for 38 years, retiring in 1991. After retiring Ray and Kay were able to travel to many places; visiting many places that they often talked about.

Ray and Kay married in 1956 and lived in Spokane Valley until the present where they raised their three sons. He was an avid gardener and loved sports. He led his home with wisdom and grace and devoted his life to providing for his family. He would do anything for his family. Ray lent a hand to everyone in need and had a smile for everyone he met. His kindness and compassion will live on in his children and grandchildren. He was a wonderful father and devoted husband; he was the hero of our home.

Ray was preceded in death by his parents, Chris and Agnes Christianson. Ray is survived by his wife of 58 years, Kay of Spokane Valley; his three sons, Doug of Renton, WA, Greg of Spokane Valley, WA, and Brian of Lake Isabella, CA; his two grandchildren, Melissa and Jeff of Albany, OR; great grandson, Jayden of Albany, OR; his sister, Alice Herman of Spokane Valley, WA; and numerous nieces and nephews. Meeting Ray in Heaven are his two brothers, Maurice and Glen, and his first son, Steven.

Our thanks to everyone for their continued compassion and support during this time. A celebration of Rayâ??s life will be held at Millwood Community Presbyterian Church, 3223 N. Marguerite Rd., Spokane, on Friday, November 1, 2013, at 2:00 p.m. In Lieu of flowers, the family request any donations be made to: Millwood Community Presbyterian Church, please write: Stained Glass Window on the memo line.