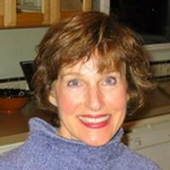 Obituary for Penelope Candee Tenold
Penelope Candee Tenold, our beloved mother, rose the morning of August 29th upon her angel wings, following a 5 year battle with ovarian cancer. Supporting her transition and present during her departure were her daughters, Tana Tenold (Andy Gutman) and Karena Fleming; two granddaughters; and grandsons, Jake and Adam Tenold. Many thanks to Hospice of Spokane who provided the support and comfort needed so Mom could remain at home during her final days surrounded by her favorite things, her beloved dog, Lola and sweet cat, Silvia.
Penelope came to Spokane following a childhood in Rutherford NJ, graduating from Columbia NYC School of Nursing in 1966. This is where she met and married her husband of 38 years, Robert G. Tenold. They moved to Seattle in 1966 and then Spokane in 1968, where they stayed to raise their 2 daughters. She contributed to our community thru the Junior League of Spokane, was instrumental in the formation of Public School Montessori, and worked as an RN at St. Luke's hospital from 1981-1992 and as a clinical instructor for nursing students at SCC till 1997. She was adventurous and meticulous, classic and wise. She was known for pushing thru barriers to accomplish any goal she desired. She was always challenging herself and others to reach their greatest potential. She demonstrated the importance of kindness and compassion, always putting others before herself. She was a diverse woman who belonged to both the Spokane Mountaineers and the Spokane Symphony. She was fluent in French and traveled extensively throughout Europe. She loved beauty and beautiful things with her greatest passions in travel, cuisine, gardening, books, art, culture and languages. The best years of her life were spent living in Paris from 2004-2010. She was a member of the American Church in Paris and the St. Monica's Guild of St John's Cathedral in Spokane.
Returning to Spokane to be closer to her grandchildren, she purchased a downtown condo and made it feel like her own French oasis. She was at peace there as she passed thru the veil, knowing there was nothing to fear and excited to be on to her next adventure. She may have sailed out of our sight, yet she is still as fabulous, femine, wacky and wise for all who greet her on distant shores. She was loved and will be missed.
Special thanks to Hospice of Spokane and St. Monica's Guild of St John's Cathedral for supporting Penelope and her family in these last few weeks. Thank you to all of our amazing friends. The meals, laughs, wine, sleepovers, prayers, books and honest conversation made all the difference in making Penelope and her family feel loved and supported throughout the past 5 years.
A memorial service is scheduled for 4pm on September 8th at St John's Cathedral. In lieu of flowers, please contribute, in Penelope's name, to one of her favorites: SCRAPS, Hospice of Spokane, Spokane Guild School.