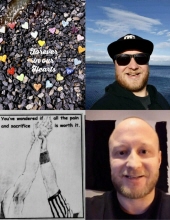 Obituary for Noland Ryan Charles Raybell
There are not enough words to express the sudden loss of Noland Ryan Charles Raybell;
A beloved Son, Brother, Grandson, Uncle and Friend. ❤️
Noland was a strong athletic guy, even from a young age he was destined to be a champion. Due to dedication and 13 years as a wrestler, he became just that, a Champion. Though with greatness can come challenges.
At 10 years old Noland suffered the loss of his father Jeff Raybell. Wrestling gave him an outlet to shell his struggles. Addiction became a challenge for Noland before 20, a struggle he would forever fight. After suffering a traumatic brain injury at 27, the loss of a best friend Lindsay Lucas at 29, and his grandmother at 33 Noland continued to fight many battles while seeking happiness. He still had the will to share his heart with others. A giver and a fighter Noland managed to touch the lives of many. As devastating as it is to loose Noland, there being no glue for our broken hearts, knowing he was able to help save 5 lives by way of organ donation means his heart will live on and his spirit still exists among us. ❤
Honored as a Hero, we know he would have wanted his own life saved as well. His battle with addiction may have ended, but we will continue to fight the war on drugs in his memory.
A scholarship has been created through Battlefield Addiction in honor of Noland to help others who deal with substance abuse.

We want to thank Sacred Heart Hospital for the care and dedication they gave Noland and our family. ❤

Thank you God Bless~

In lieu of flowers please send your donations to http://battlefieldaddiction.com/donate
Important to put "In Memory of Noland Raybell" in comment section.
Read More
Memorial Contribution
Battlefield Addiction
33438 First Way S
Federal Way, WA 98003
http://battlefieldaddiction.com/donate