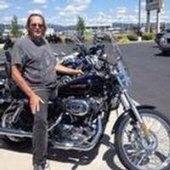 Obituary for Mark Robert Cottingham
Heaven just got a big dose of rock and roll when Mark Cottingham walked through the gates. Mark was born December 23, 1954 and passed February 11, 2014. Mark spent his childhood in Spokane with parents, Robert and Lillian, and his sister, Caroline. He graduated from Shadle Park High School in 1972 and went on to work in theater lighting and sound, and Columbia Lighting for 13 years. He graduated from SCC with a degree in Information Technology. Markâ??s greatest passion was music and he was involved with many bands, including Suspect and Trilogy. He was a huge sports enthusiast, especially baseball and football.

Mark is survived by his sons, Robb (Kimberly) McCraw, Kevin (Sasha) Williams, Steve Cottingham and Shawn Cottingham; five grandchildren; his sister, Caroline; his long-time love, Shelie Taylor; and her children, Fonda, Farah, and Cole. He was preceded in death by his parents.

A private celebration of life will be held at a later date. Thank you to the caring staff at Valley Hospital, Rockwood G.I. and Hospice.