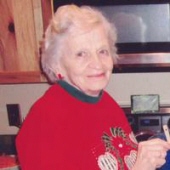 Obituary for Marjorie Carol Atwood
ATWOOD, Marjorie Carol (Piterson)
12/10/1925 6/19/2017
Died peacefully at home with her loved ones beside her. On December 25, 1941, she married the love of her life; they were married for almost 60 years. Together, they had seven children and were life time residents of Spokane and Coeur dAlene. Marjorie was head cook at Camp Sweyolakan, she also worked at the Mission Pharmacy. She enjoyed traveling, camping, fishing, and going to the casino. Marjories best friends were her family and the Leslies. She is survived by her six children, Dana (Ayu) Atwood, Jr., Sharon Harris, Myra (Gary) Baxton, Larry Atwood, Marsha Vee, and Kathy (Barry) Yount; numerous grandchildren; great and great-great grandchildren; her closest friends Roger and Wendy Leslie; in addition to Jan (Randy) Edger and Wally Pratt. Marjorie was preceded in death by her husband Dana; son Jack Atwood; daughter-in-law Monika; son-in-law Arley Vee; grandchildren Joseph, Michael, and Larry, Jr.; and one great-granddaughter, Lorissa. Her presence as the matriarch of our family will truly be missed. A graveside service will be held at the Evergreen Cemetery in Post Falls, ID on July 8, 2017 at 1:00 PM. Refreshments will follow at Barry and Kathys house 7904 E Glass Ave Spokane Valley, WA 99212. In lieu of donations or flowers, please just plan on celebrating her life with family.