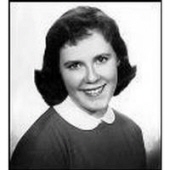 Obituary for Marilee Rose Beckley
BECKLEY,
Marilee Rose
(Strong)

Passed away Monday, February 13th in Spokane, WA. Born May 15th, 1940 in Sargent, NE to Fred and Una Strong. They lived in Almeria, NE until age five when they joined family who had moved to the Yakima Valley and Grandview WA. She graduated from Grandview High School in 1958. Marilee participated in the Grandview HS marching band where she played the drums. Her senior year the band travelled to western Washington to play in the State Fair Daffodil Parade. They had the only all-girl drum line in the state. She attended WSU for a year where she met Patrick Beckley. They married in September 1960 and had three children: Kyle, David and Sandy. In 1968 the family moved to Spokane from Colville where Marilee lived the remainder of her life. She retired in 2002 after 30 plus years with the Washington DOT. She enjoyed participating in her TOPS group who became like family to her. She cherished those relationships and loved to make us all laugh. Marilee loved gardening and music. She played the piano, drums and anything else that would make noise. Marilee was active in her church and loved the Lord with all her heart and soul.

Marilee was preceded in death by her parents and her niece, Kim Holland. She is survived by her sister Shara (Mike) Holland; her children, Kyle Beckley, David (Kari) Beckley and Sandi (Dennis) Douville, all of Spokane; her nephew Sean Holland also of Spokane. Marilee has nine grandchildren, Patrick, Jordan, Timothy and Angela Beckley, Chadwick, Paul and William Douville, and Christian and Sydney Kahabka.

The family would like to thank the Drs Graham as well as the nurses and staff at Sacred Heart Medical Center who cared for her in her last days.

Memorial Service will be Saturday, February 18, 2017 at 11am at Calvary Spokane, 511 W. Hastings Rd., Spokane, WA. Reception to follow.