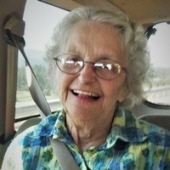 Obituary for Margaret Ella Swatman
Margaret Ella Swatman passed away quietly on September 11, 2017, at Valley Vista, in St Maries, ID. She was born to Durwood and Mae Pryne on July 4, 1936. She was a native of St Maries and the surrounding area; where she married Milton Swatman on May 16, 1952.
Margaret was an amazing wife, mother, and grandmother; she was always happiest when she was surrounded by her family and friends. Margaret was always cooking, baking, and doing her many crafts. She always had a smile and a way of brightening everyones day.
Margaret is survived by her beloved husband of 65 years, Milton Swatman; her daughter, Joyce Daniels; Grandchildren, Jackie (Mason) McGregor, Brian McGregor, Paul Travis Daniels, Randy James (Stacy) Daniels, Colby James Swatman, Samantha Swatman, Jamasson Lacer; daughter-in-law, Redella Swatman; son-in-law, Frank Michael; and numerous great and great-great grandchildren. She is preceded in death by her parents, Durwood and Mae Pryne; siblings, Dorothy Olson, Violet Bedwell, and Roy Pryne; son, Samuel Swatman; daughters, Doris Michael and Carol Jean Swatman; and great-granddaughter, Jamie Jarvis (Swatman).
A Memorial Service was due to be held on Saturday September 30, 2017 at 1:00 PM, at The Emida Community Center, 199 S College Ave, St Maries, ID 83861. Due to the failing health of Milton J Swatman (husband) , Margaret Swatman's memorial is being postponed to a later date to be announced by the family.