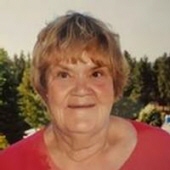 Obituary for Joan Carol Holom
Joan Holom (Lockman)

Joan Holom passed away Sunday, July 3, 2016 after a tragic accident. Joan was hit by a car while walking her dog.
Joan was born January 11, 1940 in Elmore, MN where she grew up with her family. She moved to Alaska in 1959 to be near her sister, Lorraine. Joan married Larry Lockman in 1961 and raised her family in Alaska with him. They relocated to Washington in 1979.
She was preceded in death by her daughter Kimberly in 1965, and by her husband Larry in 1986. She is survived by her sons Larry and Shawn Lockman, her daughters Shana Lockman and Heather Dunham, four grandchildren; Larry and Mathew Dunham, Jenna and Tyson Truong, and one great grandchild; Tyson Bentley Truong, her sister Lorraine Pirie, and her two brothers Mark and Richard Krosch.
Joan will be remembered most for her kindness and generosity and the love she always had in her heart. She loved to cook and took great joy in making sure everyone was always well fed. Her family and friends were her life. Joan is missed terribly.
Services will be Monday, July 11th at 2pm at the residence of family friends Kathy & Paul Phillips, 1408 N. Arc Street, Spokane Valley, WA 99016.


Previous Events
memorial service & potluck hosted by friends paul & kathy phillips
Paul & Kathy Phillips
1408 N. Arc Street Spokane Valley, WA 99016