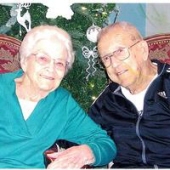 Obituary for Henry & Velma Heehn
Velma L. April 7, 1926-January 3, 2017
Henry J. September 5, 1921-March 15, 2016
After 75 years of marriage, Henry passed away on March 15, 2016. Nine months and nineteen days later, Velma passed on January 3, 2017. Family and friends will celebrate their lives and mourn the loss of Henry and Velma at a memorial at the Washington State Veterans Cemetery at Medical Lake, WA. They were preceded in death by sons Robert Heehn and Kenneth Heehn, and great granddaughter Ashley Duggins. Survivors include son Richard (Rosemarie) Heehn Colbert, WA; daughter-in-law Ann Heehn Cheney, WA; daughter-in-law Maria Heehn, Pendleton, OR; 7 grandchildren, 15 great grandchildren and 1 great-great-granddaughter. Also, surviving are Velma's sisters Avis Carey and Patricia Parkins, and many nieces and nephews. A special thank you to the staff at Fairwinds Retirement Home, Cornerstone Court Senior Care Home and Hospice of Spokane. In lieu of flowers donations may be made to the Spokane Veteran's Forum P. 0. Box 653 Colbert, WA 99005 in Henry and Velma's name.