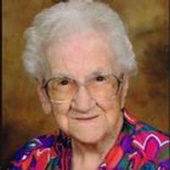 Obituary for Hazel Mae Lauritzen
Passed away October 3, 2012 in Spokane Valley, Washington. Hazel was born to Adolf and Mayme Tillman in Spokane on December 30, 1918. She enjoyed playing the kazoo and tea pot in the Kitchen Band.

Hazel is preceded in death by her parents; brothers Bob and Bill Tillman; and husband Ernie Lauritzen. She is survived by sons Larry (Dorothy) Hood of Greenacres, Richard (Susan) Johnson of San Diego, CA, and Tom Johnson of Spokane Valley; and a daughter from a different mother, Linda Bruce of Spokane.

We wish to give a sincere thank you to the staff of Sunshine Gardens for their tender care of our mother and their compassion shown to our family members in her final days.

A memorial service will be held Friday, October 12, 2012,11:00 AM, Opportunity Christian Church, 708 N. Pines, Spokane Valley.