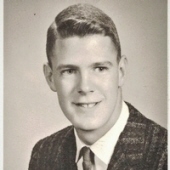 Obituary for Gerald Lance McDonald
Gerald Jerry McDonald passed away peacefully on September 4, 2017, at the age of 73.

Jerry was born on April 13, 1944, to Romaine Bus and Mae McDonald, in Spokane, WA. Jerry grew up working in his dads Western Auto store, and he graduated from Rogers High School in 1962. He later went on to work for Burlington Railroad for over 20 years.

Jerry married Juanita Bierig in 1972 and had two children. He enjoyed spending time with his family at their lake cabin in Twin Lakes Idaho, going on camping trips and watching sporting events. Jerry always lent a helping hand when needed and he loved working on boats and cars as a hobby.

Jerry is survived by his two children, Erin Nosbaum (Matt) and Mark McDonald; his brother, Scott McDonald; and two grandchildren, Lily and Brady Nosbaum. Jerry was a loving father, brother, grandfather, and friend and he will truly be missed.