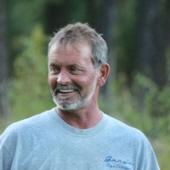 Obituary for Gary A Bowen
Local Business Owner Passes away

Gary Allen Bowen passed away peacefully after a hard-fought battle with cancer. He was born in Deer Park Wa. November 4, 1965 to the parents of Larry and Lillian Bowen. He was the loving husband to Teri Beerbohm Bowen and father to sons Mathew and Kameron and daughters Lacey, Ashley, and Brandi. He leaves behind siblings Cindy Harris (David) and Terry Bowen. Gary will be dearly missed by his grandchildren Madelyn, Samantha, Caidan, Aspyn, Jr., and Blake. After attending Rodgers High School he worked for several sign companies in the Spokane area before opening his own business, Garys Sign Service. He was very fortunate to have his sons working alongside him daily where he was able to instill in them his work ethic. They will continue to run the business and make their dad proud. Gary had many fond memories of spending time in Springdale Wa. On his grandparents farm. More recently he enjoyed spending his summers at Priest Lake with family and friends boating, waterskiing, woodcutting, fishing, and huckleberry picking. He hung with the best of them in a round of disc golf. Survived by niece and nephew Amy and Aaron. Preceded in death by grandparents Franks, Greer, Bowen, uncles Glenn & Herb, aunts Sharon & Trula Ann, cousin Brian and stepson Adam. Gary gave us all many great memories and will be in our hearts always. A Celebration of Life will be held on Sunday January 14, 2018 at The Museum Event Center, 5225 N Freya St. Spokane, WA It will be an open house from 1:00 PM to 4:00 PM.


Previous Events
Celebration of Life
The Museum Event Center
5225 N Freya St Spokane, WA 99217