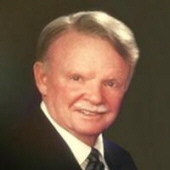 Obituary for Fred W Backlund
Spokane native, Fred W. Backlund, age 93 peacefully passed away in Coeur d'Alene on Saturday, September 3, 2016. He was an amazing and generous father, grandfather and great-grandfather and will be forever missed.

Fred leaves behind four children: Lee Backlund (Jennifer), Spokane; Claudia Morehead (Larry), Newport Beach, California; Steve Backlund (Shirley), Spokane; and Drew Backlund (Cathy), Spokane. The longtime Spokane businessman is also survived by his 7 grandchildren: Daniel Backlund, Spokane; Alexander, Mariel and Maxwell Morehead, Newport Beach, California; Bruce Backlund (Kristi), Spokane; Brian Backlund (Kari), Scottsdale, Arizona; and Andrew Backlund, Spokane. Fred also leaves behind 5 great grandchildren: Tristyn and Mason Backlund, Spokane; and Alexa, Blaise, and Sloane Backlund, Scottsdale, Arizona.

Fred was born in Spokane on May 9, 1923, the only child of Fred and Cloquet Backlund, who preceded him in death. He attended North Central High School, graduating in 1940 and attended college at the University of Washington in Seattle, WA, where he majored in geography and was a member of Theta Chi. He was also a member of the ROTC and became an officer in the Navy. He served aboard the USS Benson in the South Pacific and was discharged from the Navy in Jacksonville, Florida in 1946.

Fred returned to Spokane after his military service and with his father, founded B & B Distributors. Fred was President and owner of B & B, a successful Budweiser distributorship, for 32 years and later became President of Diversified Foods, a 13 restaurant franchise of Sizzler restaurants.

Fred married his beloved Mary Bell, in 1950 and together they shared a love for entertaining and traveling the world. They were members of the Quarterly Dance Club and loved jazz music, particularly New Orleans style jazz. They were also long time members of Manito Presbyterian Church.

Throughout their lives, Fred and Mary Bell reveled in company of friends and family and after they purchased a condominium in Honolulu, Hawaii in 1963, many family vacations were spent at the Foster Towers. Fred was President of the Foster Towers homeowners' association for over 20 years and a bridge at the building was named after him. After Mary Bell's passing in 2009, Fred sold the condominium, vowing never to return without Mary Bell.

Fred also enjoyed boating and owned several yachts which he moored in Seattle. Fred and Mary Bell enjoyed boating through the San Juan Islands for many years, but eventually decided to spend their remaining retirement years on Coeur d'Alene Lake, where they built their dream home in the late 1980s.
Fred was active in many business and social organizations. He was a past president of the Spokane Club, a founder and director of American Commercial Bank and golfed into his 80s at the Spokane Country Club.

The family wishes to acknowledge and thank Jorgeanne Herron and the wonderful caretakers at Family Home Care for their loving care of their dear father.

Donations may be made in Fred's name to the charity of your choice.