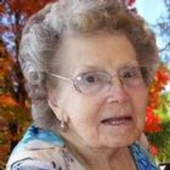 Obituary for Emily G Greenup
On November 8, 2014, Heaven gained the faithful soul of Emily G. Greenup at age 92. Born August31, 1922 in Hingham, Montana to her immigrant parents from Norway, Gunder and Amborg (Standahl) Woldtvedt. Living most of her life in Shelby, Montana, they remember her as the fun-loving redhead that could be seen caring for her family, supporting the Lutheran Church and working in the community with her younger (and also redhead) sister, Ruth Pettigrew. Emily married the love of her life, Roscoe Greenup on August 26, 1943 and together they built the family trucking business, had four children and created a legacy of valuing family. Emily had a fun-loving, generous personality that brought the people around her together for games or for supporting one another during difficult times. Emily loved flowers, she was neat and well-organized, she lived below her means, always trying to use Godâ??s Word as her guide in life, and always gave faithfully to Godâ??s work. At times she was the creative mother thinking of games to help her children learn their arithmetic, at times she was the patient aunt listening and gently pointing her nieces and nephews in the right direction, at a later time in life, she was the Grandma that welcomed the little grandkids to her home for visits and special chocolates. Most recently she was the Great Grandma that held all the tiny great grandbabies. She especially enjoyed time spent with others when it benefited someone else or an organization such as the quilters group that crafted hundreds of quilts that were sent to those in need.

Though Emily is no longer here on this Earth, her legacy and influence have forever changed us all. Her value for family relationships is continued on in the annual Greenup Family Reunion that has been held every year since 1976. Her generous spirit continues as we who were touched by her are now honoring her memory with our own actions. We will tell the stories of Emily Greenup, the classy lady with a witty remark and twinkle in her eye. She is survived by her four children, Robert Greenup of Liberty Lake, WA, James Greenup (Donna) of Colbert, WA, Elaine Omdal (Robert) of Mead, WA and Richard Greenup (Carol) of Boise, ID. Emily joins many of her family members in heaven, her husband Roscoe, her parents, brothers and her grandchildren, Jason and Sara Greenup. For the past three years Emily has blessed Spokane, Washington with her joyful and fun-loving spirit. The Greenup family would like to thank The Fairwood Independent and Assisted Living workers for all their hard work and love for Emily and also Horizon Hospice for their gentle care.

Memorials can be sent to Christâ??s Kitchen, 2410 N Monroe, Spokane, WA 99205 or to the Roscoe Greenup Educational Fund at 222 â?? 2nd Ave S, Shelby, MT 59474. A special memorial service will be held in Shelby, MT, exact date pending.