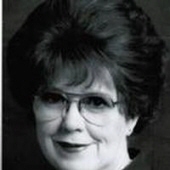 Obituary for Dorothy LaVerne Glenn
Dorothy was ushered into heaven by her Lord and Savior, Jesus Christ, February 12, 2014. She was born November 5, 1929 to Albert and Helen Nicholl. Dorothy and her brothers and sisters sang in many churches and on Christian radio at a young age. They were accompanied by their mother on the piano. They were known as the Nicholl Quartet.

She met the love of her life, Charles Glenn, at church in 1949, while he was stationed at Fairchild Air Force Base. They were united in marriage in 1952, and were married for 62 years. They raised two children together.

Dorothy worked at the Crescent, The Review bldg., and the historic Davenport Hotel. She loved her flowers, camping trips at Priest Lake and yearly family trips to Miles City, Montana to visit her husbandâ??s family. She was known as Grandma Dorothy at Manito Presbyterian Church and Southside. She took care of the children in the church nurseries. She loved the little children, reading, cuddling, and singing to them; they knew it and they loved her back.

Dorothy is survived by her husband, Charles Glenn; daughter, Christine Glenn Warren and son, Rodney Glenn of Spokane, WA; four grandsons, Gabriel Glenn, Greg (Stephanie) Warren, Andrew Warren and Joel (Mande) Warren; one granddaughter, Sember Glenn; four great-granddaughters, Elle, Ava, Annika and Linnea Warren; brothers, Alvin and Michael Nicholl; and sister, Esther Walsh. She was preceded in death by her parents; brother, Loren Nicholl; and sister, Virginia Cruger.

A memorial service will be held Friday, March 14, 2014, at 3:00 PM, at South Hill Bible Church, 958 E. 29th Ave, Spokane, WA.