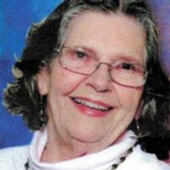 Obituary for Donna J Strout
Donna Jean (Busch) Strout, beloved Wife and Mother, entered into rest on February 20, 2016, after a long battle with heart disease. She was born in Ottawa, Illinois on July 3rd, 1938 to Willard and Barbara (Wisniewski) Busch, Donna graduated from Ottawa High school in 1956. She married Robert P. Strout of La Salle that summer, and began her 25 year career as an Air Force Wife. She lived in many stateside locations, and overseas in the Panama Canal Zone. During these assignments, she became a mother, bearing seven children. Her last assignment was Medical Lake, WA where her children grew up and began their own careers.
She loved to travel, and had visited forty-five of the fifty states. Overseas travel while an Air Force wife included Panama, and Columbia. After her children had grown, she and her husband backpacked through Norway, Sweden, Denmark, Germany, Poland, and Austria when she was 60 years old. Ten years later she toured Italy, and Spain while in Europe to attend her youngest son's wedding. She enjoyed fishing, boating, and gardening. Preceded in death by her parents and her oldest son, Robert E. She is survived by her husband, Robert P, Medical Lake, WA. Her children, Daughter-in-law, Julie, Spokane WA; Steven and Sheryl, Fort Worth, Texas; Eric and Linda, Bainbridge Island, WA; Jonathan, Spokane, WA; Jeanna, Bainbridge Island, WA; James and Hanne, Siggerud, Norway, and Linda, Seattle WA. Her Grand Children: Sarah and Matt Troutt, Cheney, WA, and Amanda Strout, Siggerud, Norway. One Great Grand Daughter, Meika Troutt, Cheney. Memorial Services will be scheduled for a future date.