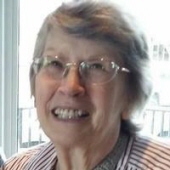 Obituary for Carole J Topor (Koch)
After a valiant 20 month battle with cancer, Carole Topor passed away peacefully at the Hospice House of Spokane with her husband of 56 years, Bill, at her side on Saturday October 8, 2016.

Carole J Koch was the firstborn of Lenora and C Walt Koch on April 15, 1942. She married William (Bill) Topor on August 20, 1960. Since Bill was in the USAF, they were stationed many places, finally settling in Spokane in 1974 with daughters Jenne Lamb (Roy and Josh) and Jeanne Franklin (Kevin and Amanda). She is also survived by her siblings, Timothy Koch (Mary), BJ Horseman, Laurel McCall (Laurence), and Pauline Turner (Larry), and numerous cousins, aunts, nieces, and nephews.

She was preceded in death by parents Lenora and C Walt Koch, brother-in-law William Horseman, grandparents, numerous cousins, aunts, and uncles.


Carole was a beloved wife, mother, grandmother, sister, and friend; anyone who met her loved her.
She was a very crafty lady, always making beautiful items. She loved all crafts, from sewing and quilting to knitting and crochet, she tried them all. Recent years led Carole into cardmaking, where she flourished with creativity, and loved to teach. Many of her cards were miniature works of art.

A celebration of Carole's life will be held at a later date. In lieu of flowers, donations can be made to Hospice of Spokane, of which the family thanks for their compassionate care during Carole's final days, or to the Salvation Army.

The family would like to thank everyone for their kind thoughts and prayers at this most difficult time. Carole will always be in our hearts, she just earned her Angel Wings earlier than we all had hoped.